Jasmine is a professional ghost hunter, a job she loves. It is her work that brought her back to her hometown to investigate Lucas Manor an old mansion by the river. As she returns all the memories that she thought she left behind there come rushing back.

During the investigation she finds she is not who she always thought she was. She is much more than she ever could have imagined, and now it is up to her to stop a malevolent man from filling the world with evil and along the way she finds the love of her life.
Reviewers top pick 5/5 hearts
I love paranormal romances and Ms. Barmann struck gold with this one. I enjoyed it so much I can actually see this story being made into a blockbuster movie
-Night Owl Romance
Top rating Recommended read
A richly complex paranormal with ghosts, haunting spirits, good versus evil conflicts, and mystical connotations, THE LOST ARE NEVER FAR is a delightful one-sitting read which riveted this reviewer's attention.
- Dark Angel Reviews
The Lost Are Never Far by Stephanie Barmann was easily the best ghost hunter story I've ever had the pleasure of reading! If you're looking for a great romance with a paranormal element thrown in, you've definitely got the right book. It seemed to be over way too soon and had me wishing it would last forever!
- Fallen Angel Reviews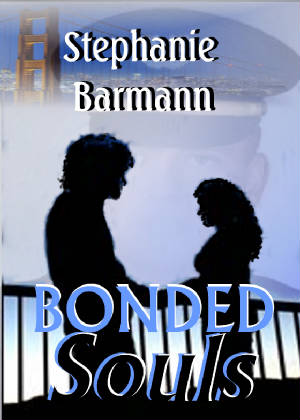 Sarah is on her way back to San Francisco for the first time in over forty years. On the way her mind begins to retrace the steps of her youth, beginning when she was just seventeen. She is deeply in love with Steven who has been her childhood friend ever since she could remember. Their love is so strong she knows it was meant to be. They truly are soul mates. Sarah is broken hearted when Steven is killed in Vietnam. She loses her lust for life, and begins drowning in her own sorrow. She becomes desperate to escape the memories of him that are all around her, the lake where they made love, the streets they walked down hand in hand. Her sadness causes her to flee, finding a refuge of sorts in her brothers home in San Francisco. There she discovers other parts of herself; but still cannot escape his memory. She sees him in her mind, and speaks to him in her dreams, visions that are so real she is unsure whether they are visions at all, or if they are in fact reality. In San Francisco she meets Paul, a man who is the complete opposite of Steven. Paul is a free spirit who shows her love is possible again, however, complications arise when his brother Adam moves to California. He is the mirror image of what Sarah had lost. Everything about him takes her back to simpler times when they were still just kids, and not yet scarred by the weight of the world. She fights her feelings; not knowing if it is Adam she is attracted too, or the memory of Steven she sees in him. She bounces between the two before finally figuring out who it is that loves her the way Steven would have, the one who her heart truly belongs to. In the end Sara does finally find the ultimate love and happiness that Steven helped lead her to. She discovers that soul mates can never be separated forever; because their hearts and souls are bonded together for eternity.
41/2 out of 5 pixies
I thought Paul a weak, unhealthy relationship, until Ms. Barmann redeems him in a spectacular manner. Adam surprised me, and I think will surprise most readers, with the way his character develops. Once I got into this book, I couldn't stop reading. I carried it everywhere with me, and read every moment I could.
- Dark Angel Reviews